Tips for Children's Bicycling Safety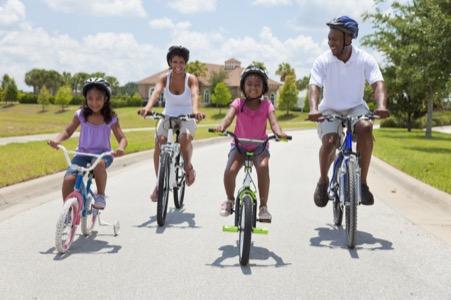 For many kids, spring and summer means it's bike season! We love to see kids get the physical activity they need, but we also want to make sure they stay safe while having fun. Check out our bicycling safety tips to help keep your kids out of urgent care this season!
A helmet is the single, most-effective safety device available to reduce head injury and death from bicycle crashes—always have your child wear one when they bike! Look for a helmet that meets the U.S. Consumer Product Safety Commission's (CPSC) standards.

Use the helmet fit test for a proper fit:
Eyes. Position the helmet on your child's head. They should be able to see the bottom rim of the helmet when they look up, and the rim should be one to two finger-widths above their eyebrows.
Ears. Make sure the straps of the helmet form a "V" under your child's ears when buckled. The strap ought to be snug, yet comfortable.
Mouth. Have your child open their mouth as wide as they can. If they can't feel the helmet hug their head, tighten the straps and make sure the buckle is flat against their skin.

You can ensure proper bike fit by bringing your child along when shopping for a bike. You want one that is sized for your child, not one they will grow into. When your child sits on the bicycle seat, their feet should be able to touch the ground.

Always make sure the bike's reflectors are secure, brakes work properly, gears shift smoothly, and tires are tightly secured and properly inflated before your child begins their ride.

Be mindful that long or loose clothing can get caught in bike chains or wheel spokes.

Teach your child to watch for traffic as they cross streets, and supervise them until you're comfortable that they are responsible enough to ride on their own.